THE ONLY MACRO-EVOLUTION OF MAN THAT HAS EVER BEEN
"PROVED" TO HAVE OCCURRED, IS THAT WHICH HAS COME OUT OF THE MIND AND IMAGINATION OF JACKALOPIAN RECONSTRUCTIVE EVOLUCYISTS!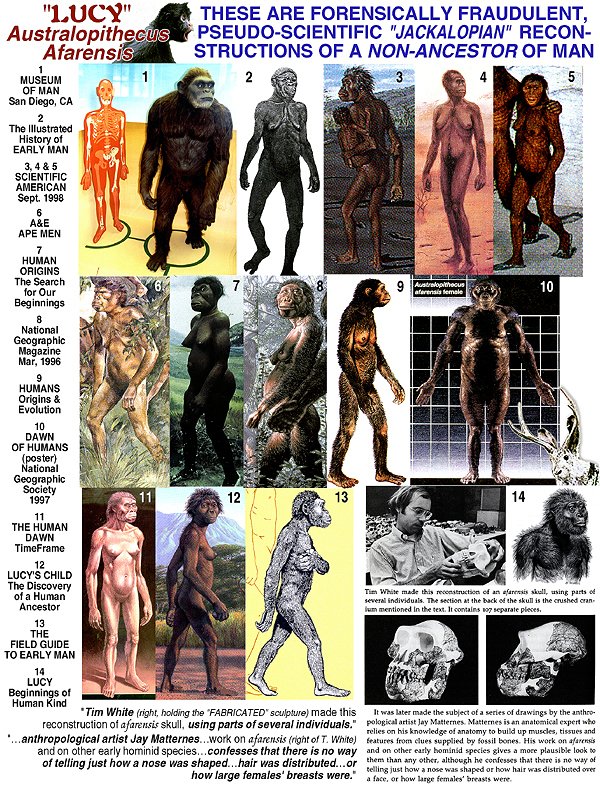 Click Here & Go To Page 3 of 3 - Evolucyism

Return to Contents
ALL OF THE SOURCES (far left) THAT ARE CITED HERE ARE PURPORTED TO BE AUTHORITATIVE, ACCURATE AND "CANONIZED" BY THE SCIENTIFIC CLERGY COMMUNITY.

EVERY METAPHYSICAL STAGE OF HUMAN EVOLUTION, FROM APE TO MODERN MAN, ARE REPRESENTED BY THIS SINGULAR INDIVIDUAL!

TO TOP THIS OFF, THE SKULL (bottom right) OF "MS LUCY" WAS CREATED BY, AND I QUOTE, "TIM WHITE...MADE THIS RECONSTRUCTION OF AFARENSIS SKULL, USING PARTS OF SEVERAL INDIVIDUALS."!!! (source; LUCY The Beginnings of Humankind, pg.352)

DO YOU UNDERSTAND THE SERIOUSNESS OF THESE FRAUDULENT REPRESENTATIONS OF THE "EVOLUTION OF MAN"?

NO? WELL, IT IS THIS.

WE THE STUDENTS AND PUBLIC, OR AS SOME ACADEMICS SAY THE GREAT UNWASHED, HAVE BEEN DUPED INTO BELIEVING THE "FACT OF HUMAN EVOLUTION" BY AN ARROGANT, SELF-RIGHTEOUS (AND SELF-DECIEVED) SCIENTIFIC COMMUNITY.
A COMMUNITY, BY THE WAY, THAT REFUSES TO TOLERATE ANY PUBLIC PRESENTATION OF EMPIRICAL EVIDENCE THAT COULD FALSIFY THEIR METAPHYSICAL, OR MORE ACCURATELY, RELIGIOUS BELIEFS!